Over the years, I've learned to appreciate the things that really make my day! It's the little things in life, right? ;)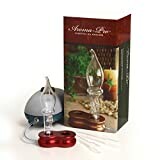 Essential Oil Atomizing Diffuser
This was the very first diffuser I ever got from Young Living. It's an amazing workhorse and has been running in my home, 365 days a year, pretty much since 2009!!!
All I run in this diffuser are the 'hard core' oils to help support my immunity & respiratory system (Thieves, Raven, RC, etc).
Fat Fuel Company Organic Instant Keto Coffee
As much as I try to avoid caffeine, a cup of this healthy joe gets my day started on the right foot! With MCT oil, coconut oil, grass-fed butter powder, & Redmond Real Salt, this coffee is the brain & energy boost I need to start my day!